Back to Events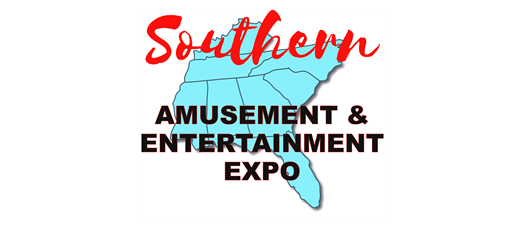 2020 Southern Amusement & Entertainment Expo
Wednesday, August 26, 2020
at
10:00 AM (EDT)
to Thursday, August 27, 2020 at 2:00 PM (EDT)
Event Details
Online Registration is closed. Onsite Registration will open at 8:00 am on Wednesday, August 26th.
Due to COVID Requirements, the Awards Banquet is sold out. Sorry for any inconvenience this may cause.
Lodging
Parking
Please follow signs to the Forum to park
Click here for parking instructions
The Southern Amusement & Entertainment Expo will use every measure available to ensure the safety and well-being of our attendees and exhibitors. We will continue to follow all guidelines issued by the Governor, Department of Public Health, and CDC concerning COVID-19.
Registration is open!! Please go to Registration Options above for all the information. See lodging information to the left.
Agenda
Tuesday, August 25th
10:00 am – 12:00 am Exhibitor Set up Exhibit Hall A
5:00 pm – 7:00 pm Sponsor/Exhibitor Appreciation Exhibit Hall A
Wednesday, August 26th
9:00 am – 9:15 am GAMOA Election of Officers GB Salon 1-3
Members Only
9:15 am – 10:30 am GAMOA Membership Meeting GB Salon 1-3
Open to all GAMOA Member Attendees
10:00 am – 5:30 pm Expo Open Exhibit Hall A
10:00 am – 4:30 pm Silent Auction Exhibit Hall A
12:00 pm – 1:30 pm Lunch at your leisure Exhibit Hall A
5:30 pm – 6:30 pm Reception GB Foyer
Silent Auction Pick-up
6:30 pm – 9:30 pm Awards Banquet/Live Auction GB Salon 4-7
9:30 pm - Midnight After Hours Party Carrabba's
Thursday, August 27th
10:30 am – 2:00 pm Expo Open Exhibit Hall A
12:00 pm -2:30 pm Seminar by COAM Officials GB Salon 1-3